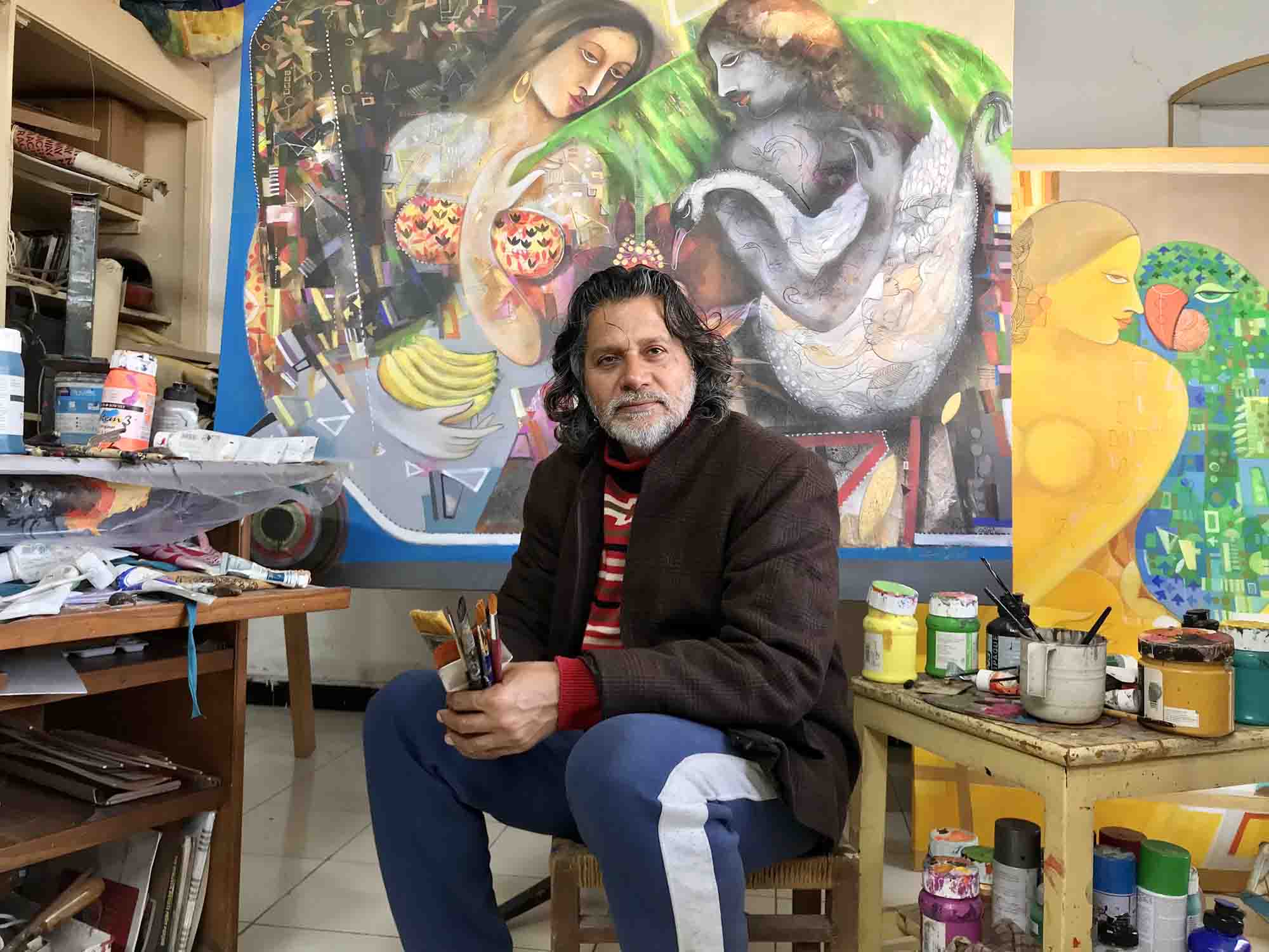 About the Artist
Madan Lal Chandigarh based Artist the city design by famous architect Le-courbouser. He grew up in Ferozepur Punjab north part of the India and the culture, heritage, motifs, landscape of his state and its rural areas have defined his imagery and vocabulary on canvas. The miniature tradition, frescoes of Ajanta and Ellora, Sufism, Buddha, all have a strong presence on the painter's canvas, who studied applied arts at the Government College of Art, Chandigarh. Recipient of the National Award by the National Lalit Kala Akademi and several prestigious awards, Madan Lal served as honorary vice-chairman the Chandigarh Lalit Kala Akademi (2012-2018), and assistant professor, NIIFT. Secretary Chandigarh Lalit kala Akademi (2003-2006) & Punjab Lalit kala Akademi (2000-2003).
His works have been cited and referenced at numerous platforms .They have been appreciated by the art lovers and complemented by the critiques. He was honored with various awards like Gold medal at All India Exhibition by Avantika, New Delhi in 2001, All India Millennium Drawings by PLKA & Lalit Kala Academy, New Delhi in 2000 and All India Exhibition by AIFACS at Chandigarh, in 2000. Praful Dhanukar State Award Gold in Mumbai in 2015 and Praful Dhanukar North zone silver award in the category of painting in 2016 and highest achievement National Award by Lalit Kala Academy, New Delhi, INDIA 2016.
Participation in Camps and Workshops have been a regular feature with him. Working in places like, London in 2008, Sweden in 2009 Turkey Istanbul, Antalya, IZMIR in 2014,2018 Macedonia in 2016/2017 , Dubai UAE in 2016/2017 , Lakshadweep Island -2018 , international art camp Nirja Modi school Jaipur -18, APJ Jalandhar -18 / 19 Bharti Vidhyapheth university Pune -17 , Chikldahra (MP) in 2016, Jammu & Kashmir in 2015\16\17\18, ,Barog, Gangtok, Pune, Kurukshetra, Shimla ,Amritsar and many more have inspired him through his journey since,1995. A part of several National & International workshops, art camps, group and solo shows in both India and abroad, Madan's works of art are in the collection of leading galleries in India, UK, Germany and USA and also many private collections.
The painter's imagery is multi-layered and replete with life's many motifs, materialistic and metaphysical and colours that exude a mysterious vibrancy are drawn from many journeys, internal and external, with the forms finding their own space and place with the elements of nature — everyday life, birds, animals, dreams and fantasies. Madan's anthropomorphic images, part human, part animal are employed deftly to paint the emotional-scape of human beings and the complexity of man- woman relationships. Eroticism too is a recurring thread. Chandigarh's landscape, surroundings, architecture, has also inspired many of Madan Lal's series of works, as he constantly explores new ways to express through his art. Drawing remains Madan Lal's first passion, as he creates hundreds of sketch books, which also contain his poetry and tell many stories, as he embarks on new artistic journeys.
National Award by Lalit kala Akadem, Ministry of culture Govt.of INDIA
Punjab Lalit kala Akademi sanmaan-2019
Qualification- BFA, Five year degree in fine art from Punjab university
Worked as an Asstt. Director Design Textile in the Institute of design for Handicrafts Punjab , Chandigarh from -1990-2011
Asstt. Director Designs (Textile ) with Department of industries & commerce , govt. of Punjab November 2015 to May 2019 (VRS)
Asstt. Professor At Northern India Institute of fashion Technology Mohali Punjab from 2011 to 2015
Honorary Secretay Punjab Lalit Kala Akademi Chandigarh July-2021
Vice Chairman- Chandigarh Lalit kala akademi since-2012-2018
Honorary Secretary -Chandigarh Lalit kala Akademi 2003-2006
Honorary Secretary -Punjab Lalit kala academy 2000-2003
Visiting Faculty at At Northern India Institute of fashion Technology Mohali Punjab since 2019